It was as routine as it was historic. You may not have realized it, but when a SpaceX Falcon 9 rocket lifted off from Launch Complex 39A at the Kennedy Space Center carrying a Dragon cargo resupply ship bound for the International Space Station at 9:38 a.m. ET on Sunday, February 19th, 2017, a whole new era in American spaceflight launched with it.
The flight was a series of firsts: The first commercial flight from KSC, the first daytime recovery of Falcon 9's first stage, a first flight with a new autonomous flight safety system, among others. More than just taking off from hallowed ground, SpaceX CRS-10 was the first of what NASA hopes will be dozens - hundreds? - of routine commercial flights from America's premier spaceport.
I was lucky to be chosen to be a part of the NASA Social group for this flight. Thanks to the hard-working public affairs staff at KSC, the dedicated docent staff, and the generosity of all who work at KSC, I had a front-row seat for whirlwind weekend of events.
It started with the "What's On Board?" news event, which indeed proved much more interesting than I thought. Then it was over to one of the old Orbiter Processing Facilities, where Astronaut Chris Ferguson, who commanded the final Shuttle flight in 2011, showed us around his new digs at his new job as Director of Crew and Mission Operations for Boeing's Commercial Crew Program, the Starliner.
But the big story, at least from my perspective, came mid-day Friday at a briefing involving two NASA figures about the future of KSC - the 20-Year Master Plan, as it were. Why a bigger deal has not been made about this is beyond me.
It's not news in the traditional sense - this plan has been around since 2012. But the launch of SpaceX CRS-10 from LC-39A, which Elon Musk's company has extensively invested in to accommodate its needs, marks the transition of KSC from a NASA-only facility to a true civilian spaceport.
Sidebar: I'd venture a guess that most of the American public doesn't understand that Kennedy Space Center and the Cape Canaveral Air Force Station - from where most Atlas, SpaceX and Titan launches take place - are two different places. As such, where you launch from carries with it different sets of rules and regulations for flight operations. Given that CCAFS is run by the Department of Defense, and KSC is run by a civilian agency, this makes moving your launch ops up the coast a few miles an economically attractive proposition for the likes of Elon Musk, Jeff Bezos, et al.
This is something of a fulfillment of the original plans for KSC. Back in the day, NASA envisioned as many as four or five launch complexes to support manned missions in the Saturn Era: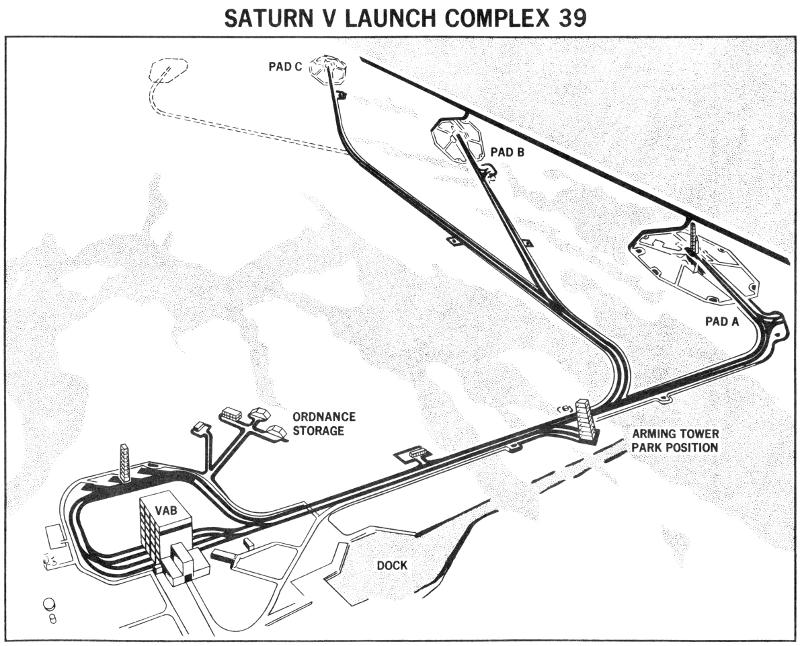 Things are already moving. In addition to SpaceX squatting on 39A for the next two decades:
Sierra Nevada's Dream Chaser will launch aboard ULA Atlas V from SLC-41 at CCAFS, but will land at the old Shuttle Landing Facility. SNC will also share the Operations and Checkout facility with Lockheed-Martin on the KSC campus. Dream Chaser's first orbital flight will be an operational one, scheduled for 2019 under NASA's CRS-2 contract.
Boeing is already using one of the old OPFs as a garage for Starliner, which will fly aboard Atlas V from SLC-41. First unmanned flight is slated for June 2018, with a manned test two months later, and operational flights scheduled to start in December of that year.
Blue Origin will manufacture its New Glenn launch vehicles on KSC's campus. Launches will take place from SLC-36 at CCAFS, but the massive rocket's first stage is expected to be recoverable. I couldn't find any word on exactly where Blue Origin expects to land its stages.
Don't forget about NASA's own SLS, which may be about to undergo some changes to its schedule.
SpaceX, true to form, is first open for business at KSC. Pad 39A is essentially slated for both Falcon Heavy and crewed Dragon launches in the coming years. They also plan expansion of their facilities around LZ-1 to accommodate landing Falcon Heavy boosters and second stages, plus propulsive landings of the manned Dragon V2 spacecraft.
In another presser we attended Friday at Pad 39A, SpaceX's CEO, Gwynne Shotwell, was more than confident in SpaceX's flight manifest for putting people on Dragon in 2018 (Pay close attention at 16:08):
So the news is that SpaceX flew a Falcon 9 with a Dragon resupply ship from historic Pad 39A on its first flight from Florida since the accident last September on the pad, and recovered another first stage - this time in daylight.
But the story is that Kennedy Space Center is officially open for business.