Add this to the bucket list: Going to see the National Championship Air Races in Reno, Nevada. Now, I was always aware of the Air Races in Reno since I saw "Reaching for the Skies" on TNT:
https://www.youtube.com/watch?v=RevzPGRUxLE
That quote from Alan Preston is priceless:
"This is like he world's greatest flying museum. You know, you go to a wonderful museum, it's like having stuffed dogs. They don't bark, they don't eat. But when you come out here, these hummers work."
It's been a bumpy ride for the Races since the Galloping Ghost accident in 2011, but they continue to survive, even if, according to some, the fan experience has been tempered somewhat due to added safety regulations.
What I want to see
Obviously, the airplanes are the stars, especially those in the main event every year, the Unlimited Class. These are heavily modified World War II vintage aircraft - mostly P-51 Mustangs and Sea Furies, with the occasional other types thrown in.
There are almost no restrictions on the aircraft, aside from these:
Only piston-engined, propeller-driven aircraft.
The aircraft must be able to pull 6 G's.
Most of the aircraft that come out to Reno are privately-owned display aircraft, but the serious ones are highly modified all-out racers. The ones I want to see are:
Rare Bear
Probably the most famous Unlimited Class racer of all time. Owned by Rod Lewis as part of his vintage collection, this heavily modified Grumman F8F Bearcat holds the World Record for piston-driven aircraft over a 3km closed course at 528.33 mph (!). She runs on a Wright R-3350 radial in place of a Bearcat's standard Pratt & Whitney R-2800 Double Wasp. Just listen to this thing:
https://www.youtube.com/watch?v=6CQLpByAbns
Precious Metal
There are plenty of P-51 Mustangs that show up in Reno each year, but only one has a contra-rotating propeller. That's Precious Metal, owned by Warbird Adventures in Kissimmee, Florida, and flown by Thom Richard.
Now, I love Merlin engines. There is nothing on this Earth that sounds like a Merlin. But put TWO props on it, and HOLY CRAP:
https://www.youtube.com/watch?v=vpki2tKlSgQ
Who I want to meet
The pilots of these aircraft skirt the razor-thin line between bravery and insanity. Just take a look at this clip from 2013 of back-to-back Unlimited Class champion Voodoo, and try not to break a sweat:
https://www.youtube.com/watch?v=3e1f89eidFs
But the one pilot I'd love to meet is Capt. Robert L. "Hoot" Gibson:
Air and Space Magazine called him "The Man Who's Flown Everything."
A lot of people have flown a lot of different aircraft. Capt. Gibson has actually flown everything, including the F-4, F-14, and the Space Shuttle.
What I wish I could see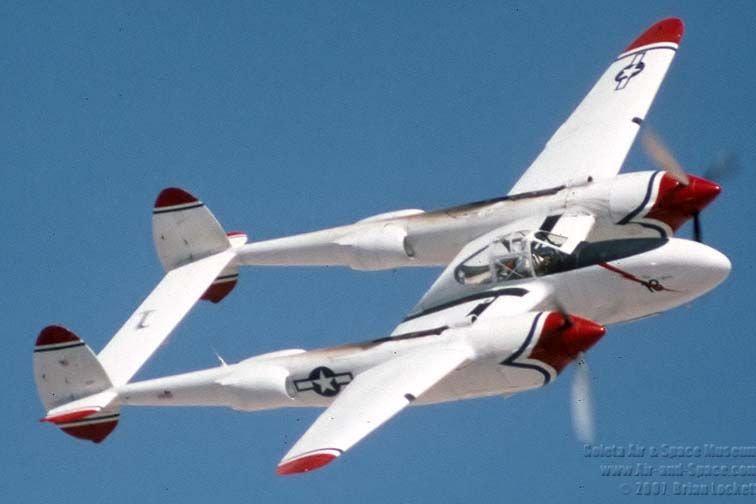 In the Reaching for the Skies video, there were a few shots of a P-38 Lightning racing at Reno. She's not there anymore.
Turns out the aircraft, named "White Lightnin'," was previously owned by Lefty Gardner, but he sold it to Red Bull in 2005.
What really would be cool is if someone else could get their hands on a P-38, and modify it with a pair of Merlin engines, rather than the Allison V-1710s they regularly use.
Word is that Kelly Johnson did have an inkling to produce a Merlin-engined Lightning during the war, but since the Merlins were government-furnished (and slated en masse for the P-51 anyway), the Army said no. In addition, the Army was also reluctant to put the brakes on the entire P-38 production line to allow it to re-tool for Merlin installation, given how critical the Lightning was at the time to both the European and Pacific theaters.
But that doesn't mean some enterprising air racing enthusiast with a couple million to spare cannot do that. Would be interesting, no?
Anyway, I'm not going to get there this year. But one day, I will, and I'm taking my son with me. That experience alone will be worth it.
The 2015 National Air Races will be held September 16-20 at Reno Stead Airport.